API Plan 22
API Plan 22
Recirculation from pump discharge through a strainer, a flow control orifice and a cooler into the seal chamber.
A Strainer
B Flow control orifice
C Cooler
D Temperature indicator
---
Seal chamber details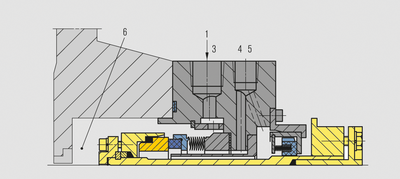 1 From high pressure region of pump (pump discharge or pump discharge piping)
3 Flush (F)
4 Quench
5 Drain (D)
6 Seal chamber

Example seal: EagleBurgmann LY9TC single metal bellows mechanical seal.
---
P&ID according to API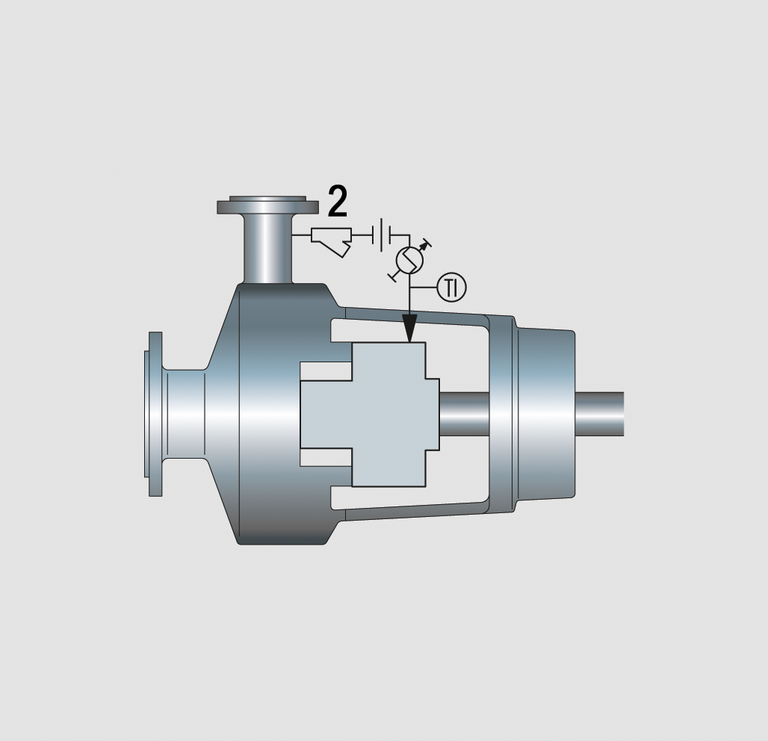 Key
2 Strainer
TI Temperature indicator
Features
Similar to Plan 21 but with the addition of a strainer to remove occasional solid particles.
Acts as a flushing as well as a self-venting plan for horizontal pumps.
Uses a flow control orifice to restrict the flow of flush fluid going to the mechanical seal.
Improves the product temperature margin thus avoiding vapor formation.
Application
Slightly contaminated (fluids with suspended solids), non-polymerizing fluids with high temperatures.
Remarks, checkpoints
Strainer to be installed before the orifice.
Strainers often have a tendency to choke and thus lead to starvation and, eventually, failure of the mechanical seal.
Minimum size of the orifice should be 3 mm (1/8").
Cooler duty is high, leading to fouling and plugging on the water side.
This plan does not function reliably enough to achieve a three-year operating life and is therefore not generally recommended. Plan 32 or a dual pressurized seal is a recommended option for such duties.
Pump media characteristics
High temperature with some suspended solids.
Close to vaporization point.
Location, function
Process side
Flushing and cooling
Configurations
1CW-FL, 1CW-FX, 2CW-CW, 2CW-CS, 3CW-FB

3CW-BB*, 3CW-FF*, 3NC-FB*, 3NC-BB*, 3NC-FF*
* Remark: The configurations listed for each individual piping plan are to be understood as recommendations including possible utilizations which may also be applied.